Karol … posted a photo: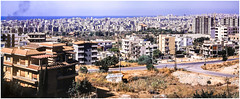 A panoramic view of West Beirut in 1985.
Along what looks like a green line, centre image, one can see West Beirut and the destruction of many buildings and houses facing the Eastern part of Beirut. One can easily imagine the destructions on the Eastern part of Beirut by just mirroring what he sees there.
Series of three stitched 6×7 frames :
Sinar P – Rodenstock Grandagon 1:4.5 @65mm – Calumet 6×7 Graflok back – Ektachrome 100 – E6 Processing Jobo CPP2 – Scanned with Sony Alpha 6000 – Pentax-M f/2.8 @50mm. Edited in CameraRaw.