Thomas Pesquet posted a photo: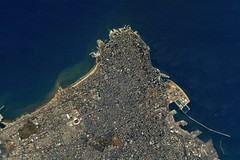 Zoom sur Beyrouth que j'ai toujours voulu visiter. 🇱🇧 Un carrefour culturel à la situation géographique exceptionnelle, entre le Mont-Liban et la Méditerranée : on doit avoir une belle vue depuis la Corniche ! Au second coup d'œil les dégâts bien visibles dans le port rappellent l'explosion de l'année dernière.
A zoom on what makes Beirut characteristic to spot from space: the triangle that extends into the Mediteranean Sea. I can tell that the city has much more to offer on the ground. Sadly you can still see the aftermath of the explosion from last year.
Credits: ESA/NASA–T. Pesquet
532B0651