iancowe posted a photo: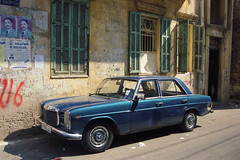 These old models of Mercedes were particularly popular with taxi drivers when I visited Beirut in 2004.
The model is either the W114 or W115 which was manufactured from the late 1960s to mid 1970s.
The architecture looks like it may date from the French Mandate period when Lebanon was ruled by France.