Early October 1941 – View from Dahr-el-Baidar Pass towards the Beqaa Valley & Anti Lebanon Mountains in Syria (now Lebanon – colorized version)
aussiejeff posted a photo: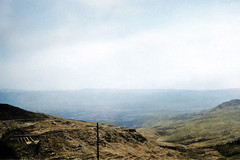 IMAGE INFO
– Viewpoint is looking east-south-east into the Beqaa Valley, with the Anti Lebanon Mountains in the distance.
– Tom shot this pic approx. 600 metres further east, along the now Rue Ash Sham or Beirut-Damascus International Highway.
***************************
SOURCE INFO
– Original B&W image was captured by my late father-in-law, Driver Tom Beazley of the Australian Army 2/1 Anti-Tank Regiment, 19 Brigade, 2 Australian Imperial Force, using a Kodak Six-20 Popular Brownie box camera with 120 roll film, during his unit's big convoy move from Julis re-training Camp, via Beyrouth, to Ras Baalbek operations camp in the Beqaa Valley, Syria (now Lebanon).
***************************
PROCESS INFO
– Digitized using a Canon Canoscan 8800F scanner.
– Restored from the very grainy, faded & scratched original photo paper print quality, using Adobe Photoshop CS Windows.
– Colorized using Nov2020 version of MyHeritage In Color online colorization tools.