PROSPECTS 4 Refugees posted a photo: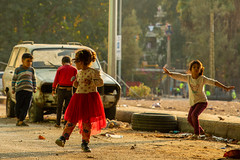 Syrian refugee children play in the streets of the Karantina neighbourhood of Lebanon's Beirut. The area has been one of the most affected districts in the capital by last year's port explosion, one of the world's most powerful non-nuclear blasts in history.
Lebanese, Syrian and Palestinian people live in the area, which is plagued by neglection and unemployment. The aftermath of the explosion, the COVID-19 pandemic and the ongoing financial and economic crisis the country is facing are taking a special toll on children, according to local NGOs and international humanitarian agencies.