PROSPECTS 4 Refugees posted a photo: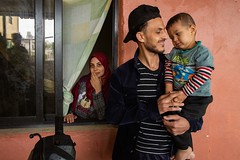 Syrian refugee Mohammad Al-Saf holds his son Khattab in front of the flat in the Karantina neighbourhood of Beirut where he has has found refuge with his wife after fleeing the Syrian war in 2018. They hail from Deir Ezzor.
He says they are alive because God was with them on the day of the explosion. The area has been one of the most affected districts in the capital during last year's port explosion, one of the world's most powerful non-nuclear blasts to date.