aussiejeff posted a photo: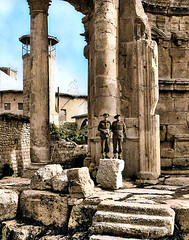 SOURCE INFO
– Original image was captured by my late father-in-law, Driver Tom Beazley of the Australian Army 2/4 Anti Malaria Control Unit, 9th Division, 2nd Australian Imperial Force, using a folding Kodak 6-20 Brownie camera with 120 roll film, while he was on extended leave.
**************************
PROCESS INFO
– Digitized using a Canon Canoscan 8800F scanner.
– Originally restored from the very badly grained, scratched & faded original, using Adobe Photoshop Creative Studio 8.0
– Latest version re-processed with AI enlargement, colourization & enhancement software.